Get to know Bhutan!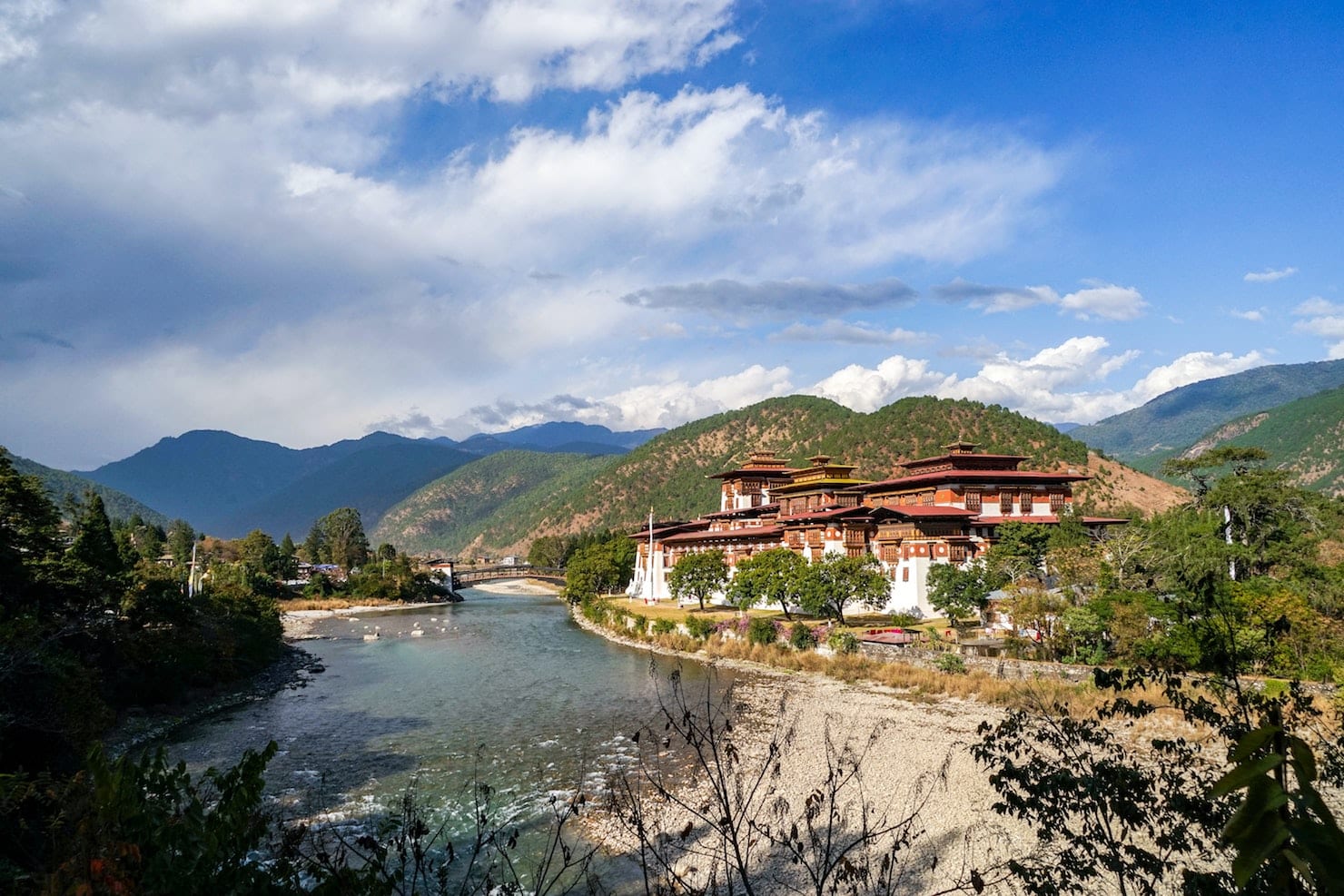 The Land of the Thunder Dragon prides itself as an ancient land full of heritage and culture, blessed with a rich ecological system and home to much rare flora and fauna. It is a mystical destination, full of Neys (sacred sites) imbued with natural energies. Here are some fun facts about Bhutan that you should know before you start planning your trip.
A LOVE FOR THE ROYALS
Bhutan reigns as the happiest country in the world and nothing makes the Bhutanese people happier than their ruling monarchs. The royals have had a long history of love for their people, consistently going out of their way to ensure that the people in their kingdom are living well. The former king had voluntarily abdicated his throne at the age of 56 in 2006 — the first voluntary abdication recorded in history — to make way for political reforms that he believed would be beneficial for the entire kingdom. 
Now, its current ruler, H.M. King Jigme Khesar Namgyel Wangchuck, continues his father's work as an active advocate for education and welfare. Heralded as the People's King among the locals, his passion to help his people has driven him to travel frequently to the rural countryside to live amongst them and visit inaccessible villages by foot. 
AN ADVOCATE OF SUSTAINABLE TOURISM
Bhutan is the world's only carbon-negative nation: this means that they absorb more harmful greenhouse gases than they emit. Though it is a small nation dwarfed by its regional neighbours, Bhutan manages to remove three times the amount of carbon dioxide it produces – a truly admirable feat that speaks greatly of its national policies.
With such a strong focus on the environment, It is no surprise that Bhutan is a firm believer in sustainable tourism. As its natural environment is highly regarded as sacred sites, the Bhutanese government implemented daily tariffs to control the number of tourists entering Bhutan. This helps to reduce carbon emissions while ensuring that Bhutan's prized nature continues to thrive. 
At first glance, this tariff seems to be a deterrent for the wallet. However, this actually includes many perks: you get a Bhutanese guide who'll bring you around for the full extent of your stay, all internal ground transportation and a minimum 3-star accommodation. You will also be happy to know that a fixed amount of the tariff will be contributed to free education, healthcare and environment conservation under the Bhutanese government's Sustainable Development Fee (SDF) initiative. Giving back to the destination has never been so easy. So when you go on a trip to Bhutan, be rest assured that you'll be part of this government's sustainable tourism development!
AN ASSEMBLY OF SPECTACULAR VIEWS
The moment you arrive in the Bhutan skies, you'll be blessed with a sprawling scenery of rugged mountainscape and lush greenery from your flight. Paro Airport is famously known as the most difficult airport to land in and only a handful of pilots are qualified to do so. With the airport runway located amongst the mountains, pilots have to revert to manual mode to land successfully. As the plane slowly descends on its approach, you will be holding your breath either from the priceless bird's eye view of the spectacular Bhutanese landscape or from the fact that the plane's wings seem to barely clear the top of building roofs. If you ever felt compelled to applaud a pilot's well-executed landing, this would definitely be a good reason to do so.
Here's a special insider tip, courtesy of Uniq Luxe: reserve seats on the left side of the plane when flying in. Likewise on the return flight, request for a seat on the right side of the plane. This is how you secure the best views as you arrive and leave Bhutan respectively. 
LUXURY AWAITS
You can also enjoy amazing views from the comforts of your luxury accommodations. Bhutan's unique environment has attracted many luxury brands to build stunning accommodation from Paro to Bumthang. 
Amankora boasts five different locations: from the valleys of Gangtey to the forests of Paro. In fact, Amankora Paro was specially designed to blend in with its surrounding greenery. Seemingly engulfed by the neighbouring forests, you'll feel as though you have become a part of nature. Get the best views as you relax in the glass-walled yoga suite and gaze at the ancient Drukgyel Dzong ruins as well as the looming Jomolhari Mountain. 
COMO Uma Punakha is also another luxury accommodation with jaw-dropping views. Perched high above on a hill, its rooms have a fantastic view of the vast valley below, overlooking bright green paddy fields, emerald-carpeted peaks and the sparkling Mo Chhu River. If you're looking for sprawling views of picturesque rice paddies and green valleys, stay at one of the intimate rooms available at COMO Uma Paro.
As its name suggests, aside from the picturesque views, Six Senses Bhutan offers an all-rounded immersive experience — a treat not only for the eyes but the soul as well.  Relax in one of its five lodges located high above the serene landscapes of Thimphu, Punakha, Paro, Gangtey and Bumthang. From meditative yoga to holistic spa treatments, guests find it easy to indulge themselves in a luxurious wellness retreat in Bhutan. 
With wellness at its very core, Terma Linca Thimphu is home to spa facilities and a hot stone spa — perfect for travellers who are looking for a rejuvenating retreat in the Land of the Thunder Dragon. The wide open terrain is also great for picking up archery, the national sport of Bhutan, and guests are more than welcome to book sessions at the concierge. This resort was originally built by the royals to host their royal weddings and is the only locally-run 5-star accommodation in the entire country. Attesting to their authenticity is their restaurant, Apa's Restaurant, serving up local favourites.
Another gem in the country is the award-winning Gangtey Lodge. Nestled high upon the great Gangtey Valley, which is a protected reserve for the rare black-necked cranes, and thus a fantastic spot for bird-watching. Step into your private oasis, fully furnished with warm fabrics and earthly tones, and soak in the bath overlooking the mountainous scenery with the cozy fireplace warming you up.
A SACRED PLACE OF TRANQUILITY
While the rest of the world measures progress using GDP, Bhutan coined the term GNP (Gross National Happiness) and made that their priority instead. When you arrive in Bhutan and look around, it starts to dawn on you that perhaps the tranquil surroundings might have contributed to this enlightenment.
Be awed by the majestic Jomolhari Mountain, believed to be the sacred home of a Tibetan goddess. Located along one of the most picturesque trekking routes in Bhutan, it is no wonder admiring Jomolhari is on every tourist's bucket list. If you are lucky, you may even catch a glimpse of the endangered snow leopard.
Tucked away at the corner of a cliff, Taktshang Cliff is a small yet scenic monastery nestled high above the sprawling Paro Valley. Also known as Tiger's Nest, it is famous for being the meditation site of a well-known Buddhist Master. As legend goes, when Padmasambava brought Buddhism to Bhutan in the 8th century, he was said to have arrived on the back of a flying tiger — who was also his Tibetan concubine. He meditated above the temple for four months and started to convert the Bhutanese people to Buddhism. 
Beyond the shadowy ravine of the Tang Valley lies Membartsho, the Burning Lake. At the bottom of this lake, there is a temple with many doors full of treasure, visible only to a rare few. Even if you are not one of these "enlightened beings", you can still appreciate the beauty of this pool from the wooden bridge adorned with colourful flags. 
SENSATIONAL BHUTANESE CUISINE
Bhutanese food is a must-try. Taking its roots from Tibetan cuisine, Bhutanese cuisine emphasises on stimulating a person's taste buds and five senses. This all-rounded stimulation is thanks to the abundance of chilli in most of its dishes. Chillies are very common in Bhutanese cuisines as it helps to keep people warm in its cold climate.  
This is especially true in the ema-datshi, Bhutan's national dish. A steaming stew made from a variety of chilli peppers and yak cheese, known as datshi, ema-datshi has remained a hot favourite among the locals. Be careful though – it's really spicy, so you may want a glass of water next to you when you try it. Momos (dumplings) is another dish that is often associated with Bhutan and it is the perfect comfort food! They are stuffed with minced meat, cabbage or cheese and served with more chilli!
Don't be misled by its Japanese name: Matsutake mushrooms are actually native to Bhutan too. These wild mushrooms, known to the locals as Sangay Shamu, are found deep in the forests of the Ura Valley, grown in clusters around the bases of pine trees.
They are harvested once every year during the July-September period, where the people of Ura walk for hours just to gather these tasty mushrooms. To celebrate this harvest, the Bhutanese people throw a three-day Matsutake Mushroom Festival, held in the Bumthang Valley in the third week of August.
A story goes that the Bhutanese people reap in such large quantities of these mushrooms that they would feed the excess to the pigs. They had not known about the Matsutake mushrooms' value in the international trade market until a Japanese tourist identified them at a festival.  Since then, Bhutan is currently one of the seven main exporters of Matsutake mushrooms in the world. 
FANTASTIC FESTIVITIES
Speaking of festivals, Bhutan plays host to several festivals as well. Regarded as the National Festival of Bhutan, the Thimphu Tshechu Festival is by far the largest and most popular. This festival is conducted annually over three days typically in October since 1867. The Bhutanese people put on colourful costumes and perform masked dances to bless spectators and impart to them the teachings of the Buddhist dharma. It is long believed that attending such a spectacle will bestow upon the onlooker good fortune for the year. For tourists who would like to partake in this festivity, it is highly recommended that they be there three days in advance for an extra day of celebration on Thimphu Dromche, when the local people throw dances to honour their patron god, Palden Lhamo. 
Another popular festival to attend is the 7-day long Paro Tshechu Festival, which celebrates the advent of spring. The star of the festival is a 350-year old scroll which attracts thousands of visitors to Bhutan. The people don masks depicting gods and demons, and dance to commemorate the deeds of the great saint Guru Rinpoche. The dances are believed to invoke the deities of these holy teachings who remove misfortunes by suppressing evil spirits.
If you like to see more of these traditional mask dances, look no further than the Paro Tshechu Festival, which usually takes place in February or March. This festival commemorates the consecration of the Paro Dzong fortress back in 1644 and thus a great opportunity to immerse oneself in the rich culture and traditions of the Bhutanese people. Stay till the very last day of the Paro Tshechu festival to glimpse the Guru Throngdrol, a gigantic thangka. This embroidered painting is an impressive piece of Buddhist artistry and it is considered so sacred that the people believe that just looking at it will cleanse you of all your sins. 
CRAFTING A BESPOKE EXPERIENCE
With these facts at hand, you must be wondering: how do I create the ideal itinerary? If you would like to personalise your itinerary, we are here to help you book your dream accommodations, offer you suggestions based on your preferences and hire the best local guides for your trip. 
As a travel agency specialising in luxury vacations, Uniq Luxe has travel designers who are avid travellers themselves and have gone to Bhutan, tasting its cuisine and enjoying the festivities. With a wealth of experiences under their belt, you can be sure that you'll have a one-of-a-kind Bhutanese vacation that's second to none. 
Talk to one of us at Uniq Luxe to find out more about tailoring your authentic Bhutanese trip!
---
Check out some other spectacular Asian destinations here.
Safety comes first when it comes to travelling. Read our Covid-19 policy to find out how Uniq Luxe is prioritising your health while you travel with us.