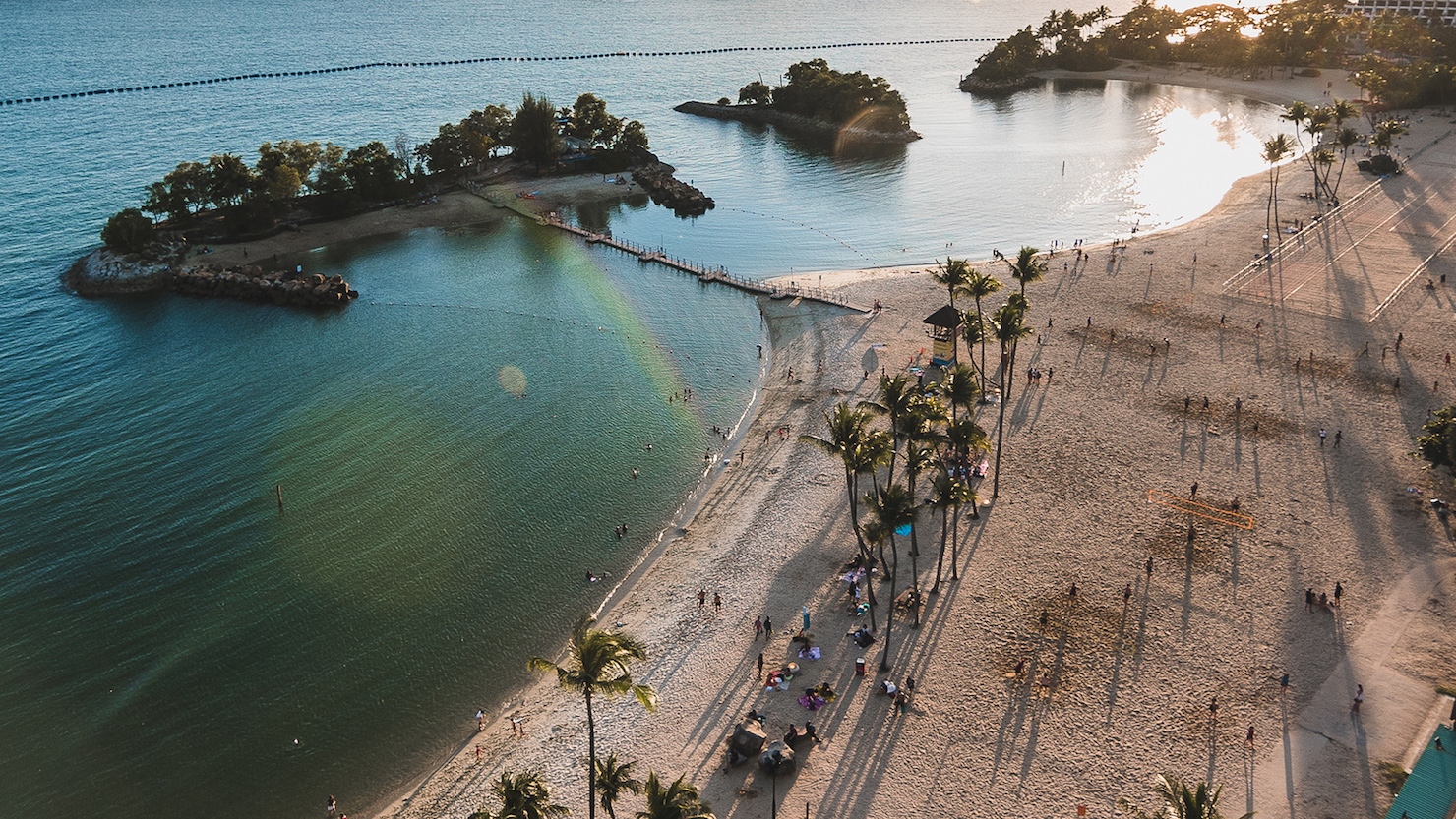 Seasons of Fun in the Sun!
Surprises in store to the south of Singapore!
---
Fondly known as the State of Fun, Sentosa plays host to an exhilarating range of activities — from cable cars to roller coasters, wax museums to the largest aquarium in South East Asia, there is no limit to the countless activities you can do on this tiny island. With the complimentary $20 National Day Sentosa Fun Passes on top of the recently-announced $100 SingapoRediscover vouchers, you must be wondering where you should spend them. Here is Uniq Luxe's selection of interesting experiences that you can spend these new credits on and add to your luxury Sentosa staycation holiday!
LUXURY COMFORTS
Sentosa is home to a series of luxurious yet stylish accommodations with a modern twist.
One of these 5-star hotels is Capella Singapore, well-known for hosting the monumental Trump-Kim Summit in 2019. Having been a former British base, Capella is an echo of the distinctive white colonial architecture of the 1880s. 
You'll be glad to know that Capella is all about space: its Premier Rooms already boast an incredible 77-metres square, one of the largest of all the entry-level hotel rooms available on Sentosa. In addition, being just a stone throw's away from the Palawan Beach, it also provides a private access for its guests. These, coupled with its friendly concierge service, have made the hotel consistently popular among families with young children.
Moreover, Capella guests are entitled to complimentary resort activities. Guests can make their own bubble teas and cupcakes, shake up some cocktails or learn how to appreciate rum by tasting and delving more into its history. The hotel also offers premium activities to enhance your luxury Sentosa staycation experience. Learn how to arrange floral bouquets in a floral-styling workshops or join a dim sum master class, which naturally includes a mouthwatering dim sum lunch. You can check out their full range of activities as well as their corresponding prices (if any) here. 
To the east of Capella Singapore lies The Barracks, a heritage hotel that offers something more unique for its guests. Once a British artillery outpost, the hotel has been transformed into a maritime symbol, with its dark wood, brass and leather-accented furnishing. Explore the colonial pasts of both Singapore and Sentosa when you go on the specially-curated Barracks Heritage Tour, an exclusive experience to guests staying at The Barracks Hotel. Guests are also privy to a wide range of discounts during their luxury staycation on Sentosa Island. 
Relax with a nice swim in their lap pool or dip into the Pool Deck, an expansive set of themed pools inspired by exotic destinations across the globe. Drawing inspiration from the famed Turkish pool of the same name, the Pamukkale Pool features pool terraces with an unobstructed view of the horizon — a perfect spot to catch the golden hour with your loved ones. Otherwise, you can chill on the wicker canopies studded upon the private "isles" of the Adventure Pool or simply meander down the Lazy River in a donut float. Any kid will be glad to have a splashing good time in the aptly-named Children's Play Pool riding down the slides and playing in the water amenities.
THRILLS AND SPILLS FOR ALL
The State of Fun definitely deserves its title. With such a broad range of experiences, the possibilities are endless — from flying in the world's largest indoor skydiving wind tunnels to a relaxing bird's eye view of Mount Faber and Sentosa in a cable car. 
If you've never sky-dived before, iFly Singapore will be an exciting and unforgettable experience. At almost five storeys high and fitted with a huge glass wall, the wind tunnel chamber offers a spectacular view of the glistening South China Sea. With professionals by your side, learn how to execute a variety of movements with ease, such as free flying, formation skydiving and Vertical Relative Work. While iFly Singapore is open for children, they must be at least 7 years of age. Visit their official website for the details and their extensive range of packages. 
For thrills for all ages, head over to Universal Studios Singapore. Swoop between skyscrapers, crash (harmlessly) into buildings while escaping from the clutches of Megatron with your buddy Bumblebee in Transformers: The Ride 3D. Snap photos with your favourite characters, like Shrek's feisty Puss-in-Boots as well as the lovable Cookie Monster and Elmo from Sesame Street. From now till 1 November 2020, celebrate Halloween with the Minions. Don't miss this chance to meet Frankenbob, Mummy Stuart and Dracula Kevin, who'll be sure to put smiles on your faces. As part of the trick-and-treating fanfare, candy ambassadors dressed in orange aprons and pumpkin hats are glad to fill up your bags with sweet treats. 
S.E.A. Aquarium is also throwing a Halloween party till 1 November 2020! Affectionately titled the "Deep Boo Sea", the aquarium is hosting a series of events for the young and old to learn more about the "frightening fishes" of the sea. Find out more about the aptly-named vampire fish, which uses its long fangs to catch its prey, as well as the mysterious wolf-eel and its mythical healing powers. Drumming up the excitement is a treasure hunt — search for the lost pearls scattered throughout the exhibits by answering ocean-related riddles and win a special bounty of your own.  Children also receive a free pumpkin bucket with every child ticket purchased, which they can fill to the brim with candies from the Halloween ambassadors.
Need something a little more physical to perk you up over the weekend? The Mega Adventure Park is home to the MegaZip, a 450-metre long zipline overlooking a jungle and the sparkling sea — a panoramic and heart-pounding activity for everyone regardless of age. If you're looking for a challenge, the MegaClimb & Jump might be of interest to you. This high rope adventure course consists of 36 obstacles on Imbiah Hill, linked across giant eucalyptus trees from five to 15-metres high. Conquer and celebrate this challenge with an adrenaline-inducing leap from the 15-metre high MegaJump.
With the thrills rushing through your veins, it's time to relax. Embark on a GoGreen Segway Eco Adventure by hopping on your own personal segway and, after some pointers from your friendly instructor and tour guide, scoot around Sentosa for a scenic tour of both Palawan and Siloso Beach. Learn more about Sentosa Island as well as the history of the beaches — your guide will even pick out some nice photo stops to snap some memorable shots.
As night falls, a magical evening experience awaits you high above, in the comforts of the Singapore Cable Car. Everyone may be familiar with these famous box-like cabins zipping down from the peak of Mount Faber to Sentosa and back again, but did you know you can enjoy some fancy wine and dine in them too? From January to November, the Stardust Cabin is available for reservations. Savour an extravagant 4-course dinner with the choice of wagyu beef, Norwegian salmon fillet or a whole lobster as the main highlight in this private cabin while taking in the glittering Singapore skyline. For something a little simpler yet as luxurious, there's the Champagne Cabin, where you and your loved ones will be served delicious platters of duck au rillette, fish bites & truffle fries as well as chopped Catalan tomatoes gratin to complement your bottle of Laurent Perrier champagne. What a perfect finish to a luxury Sentosa staycation!
SUN, SAND & SEA
Sentosa, which means "peace and tranquility" in Malay, has always been famous for its serene beaches, both natural and man-made ones. These three beaches, namely Siloso Beach, Palawan Beach and Tanjong Beach, can be easily accessed via the Sentosa shuttle, a fuss-free, air-conditioned transportation that's great for Singapore's hot weather. 
Lying on the south-western coast of Sentosa, Siloso Beach has been a popular picnic spot among families and plays host to a broad range of beach sports like volleyball and canoeing. Wine and dine at some of its waterfront restaurants or enjoy a cocktail at the beach bar as the sea continues to sparkle under the sun before your very eyes. 
Tanjong Beach is quietly tucked along the south of Sentosa, and its seclusion makes it the ideal spot for some relaxation. With its fine sand and cool waters, you'll be surprised to know that this crescent-shaped bay is actually man-made. There are some shaded loungers set around the beach, so you can read your favourite novel or nap in the gentle sea breeze. For the more adventurous, grab your fishing gear and try to catch some fish on a kayak: anglers have been reported to snag groupers in the open waters. 
Palawan Beach's iconic pirate-themed suspension bridge is an awesome sight for all. Cross this ropeway bridge to reach the Southernmost Point of Continental Asia, Asia's closest point to the equator. Spy the numerous huge container ships passing through the South China Sea and revel in the peaceful moments away from the bustling city. 
As of 23 September 2020, visitors are now required to apply for advance bookings for Sentosa's beaches from 17 October 2020. This also includes reservations for any of its 15 beach courts for beach volleyball or court-based games. This is part of Sentosa's Covid-19 procedures to enhance guest experience and safety while controlling the crowds. Booking does not incur any additional fees, and can be made 7 days in advance, starting from 10 October 2020 on this page. 
---
Looking for other luxury staycations? Check out our full range of hotel deals here. 
If your family is looking for a city retreat, read our Shangri-La Hotel article to find out more!
In love with our luxury Sentosa staycation ideas? With Covid-19 measures in place, a simple staycation can be a little troublesome to realise. Here at Uniq Luxe, we can customise the perfect Sentosa luxury experience for you and your loved ones with just a click of the button.
Note: This page is updated as of 10 October 2020. Please refer to Sentosa's official website for the latest news.