Fun for the entire family!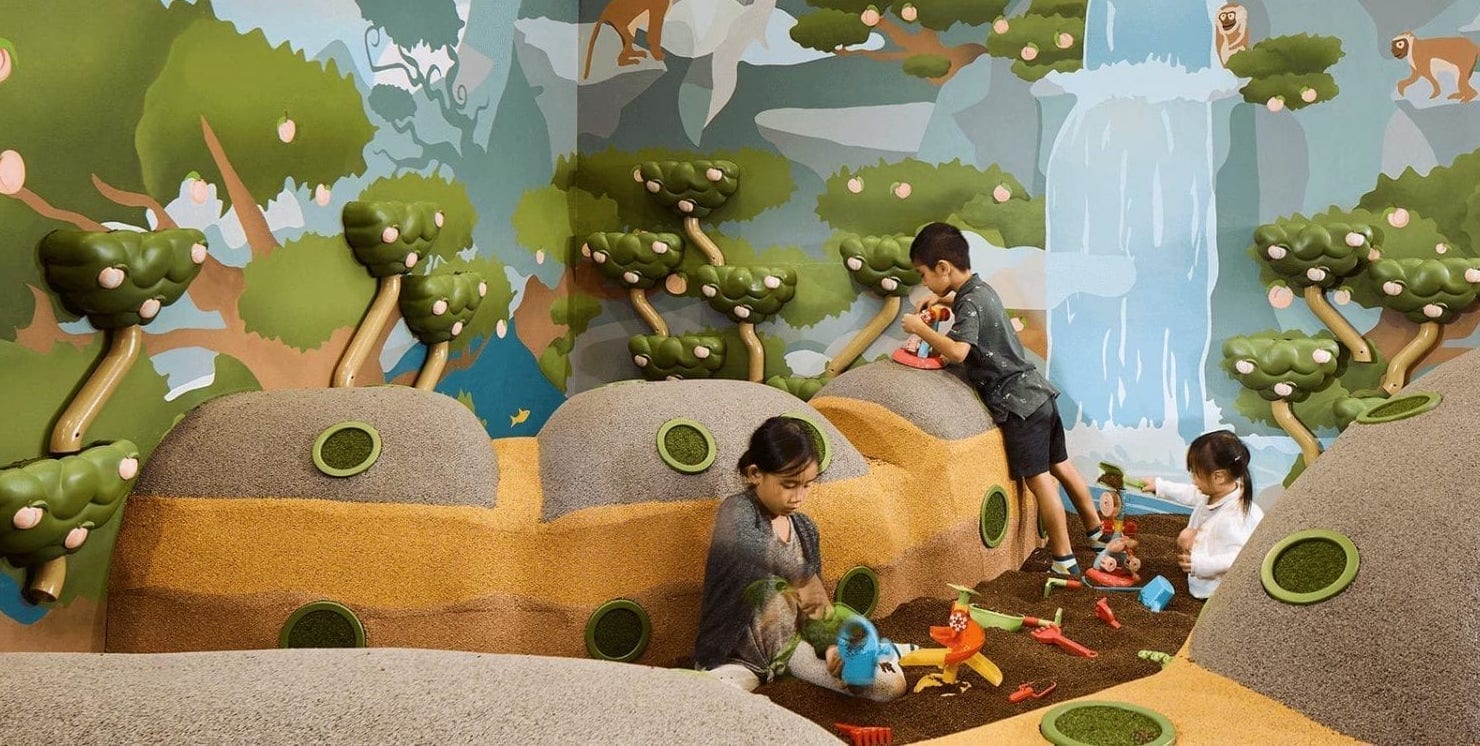 A fun-tastic family retreat awaits!
---
Best-selling author Lucia Capicchione once said: "Play keeps us vital and alive. It gives us an enthusiasm for life that is irreplaceable. Without it, life just doesn't taste good." 
Hectic life schedules…tedious Covid-19 measures… Parents and children alike are restless and wishing for a moment of respite. Revitalise your life with a well-deserved break at the Shangri-La Hotel Singapore! It's the perfect luxury family staycation, offering many facilities and dining options.
The Garden in the City
Make your luxury staycation unique by staying at the Garden Wing. Walk along the iconic open-air garden corridors. Gaze at the greenery from your private balcony. Relax in the nature-inspired rooms. This tranquil ambience will make you forget you're in the city!
A broad living room. Large bedrooms. Extensive wraparound balconies. Supercharge your family staycation when you book the fabulous Premier Balcony Suite! Modern and stylish, the room gives off a refreshing vibe. The suite is an ideal place to bond with your loved ones. The wide balcony also has a hot whirlpool bath and jacuzzi pool for you to soak in. 
Put your shades on or grab a book as you stretch out and relax on the sun-loungers. As the evening falls, throw a barbeque party for a very special family staycation! Children can melt marshmallows over the fire to make some sweet smores.
Royal Treatment in the Valley Wing
Feel like royalty when you book a stay at the Valley Wing. Your children will be treated like the little prince and princess they are! As your car turns into the private driveway, a Shangri-La doorman welcomes you with a smile. Step onto the red carpet and enter the grand lobby. A private elevator takes you to your room – there's no need to check-in at the reception! If the Garden Wing is elegant, then the Valley Wing is full of splendour. The rooms are extremely refined, with luxurious amenities to boot. Indulge with the L'Occitane or Acqua De Parma toiletries in the marble-clad bathroom. Guests also enjoy the exclusive privilege of breakfast in The Summit Room. This is a grand addition to a luxurious family staycation!
Why not upgrade your family staycation by staying at the top suites of Shangri-La Hotel? The extravagant Singapore Suite has enormous bedrooms and living area, where the family can lounge in comfort! A magnificent luxury stay awaits in the majestic Shangri-La Suite. Perched at the very top of the Valley Wing, this stately suite has unbeatable views of greenery. It takes the crown as the best suite in the entire hotel. 
What's more, enjoy Shangri-La's world-renowned butler services at the Valley Wing. Their sincere dedication ensures a pleasant family staycation. This is truly a luxury staycation for all!
Treats For Every Tastebud!
At the Shangri-La, your family will be spoilt for choice when it comes to food! Indulge in The Lobby Lounge special: a 3-tier locally-flavoured afternoon tea set! Take a bite out of freshly-made Nyonya kueh, Gula Melaka and Pandan pastries! Kids will be thrilled by the artisanal Shophouse. Savour its signature Bubble Tea Lava Cake and other eye-popping local favourites!
Waterfall Ristorante Italiano serves up Southern Italian classics with seasonal produce and la dolce vita. Don't forget to complement your meal with an Italian bottle of wine! You can even create your own Italian speciality during the Antipasta Buffet Lunch from Monday to Friday! 
Satisfy your Cantonese cravings at The Shang, a gourmet restaurant run by 2-star Michelin chef, Mok Kit Cheung! Try the Dim Sum Executive Set Lunch, featuring signature Dim Sum dishes such as wok-fried prawns and stewed noodle with shredded roasted duck.
Can't decide what to eat? Feast at The Line, an all-day international buffet restaurant. From fresh seafood, a wide selection of sushi, Thai salads, freshly-baked naans to dainty desserts, there will be something for every palate – even for the pickiest eaters! 
Don't worry if you have specific dietary requirements. Ask for Shangri-La's Plant-Based Specialties, a menu handcrafted by vegan chef Damian Piedrahita. It's fully customisable, designed to cater to different needs.
A Luxury Playcation for the Family
Excitement and thrills await the family! Let the kids run wild in the newly-launched water play zone, The Splash Zone! It comprises six different water play areas, equipped with specially designed aquatic amenities. It'll be sure to make a fun-fulfilling day! 
buds by Shangri-La is an interactive play space for children. Here, they learn through play in an imaginative and independent environment. They can even take part in interesting activities! From baking to singing, the possibilities are endless for your little ones during your family staycation.
With the Fun Family Playcation package, enjoy unlimited playtime at the Splash Zone and 3 hours playtime daily at buds! What's more, you can have a picnic in the gardens with a fully-provided picnic basket, mat and food selection! Surprise your children with themed amenities in their rooms, courtesy of the hotel.
A Relaxing Retreat
For the weary and overworked, it's time for some therapy at Chi, The Spa! Select from a wide range of treatments. Pamper your body and soul with a beautifying facial or a holistic wellness journey. Young adults (above 18 years old) are also welcome to partake in this luxury wellness retreat!
Invigorate yourself with a Signature Asian Blend Massage. You will benefit from the best of traditional techniques such as the Thai pressure point, Balinese and Malaysian strokes and Chinese energy flow. The tension-relieving Healing Himalayan Hot Salt Stone Massage uses heated natural salt stone crystals — pure and beneficial salts containing 84 naturally-occurring minerals. You'll feel the knots and pains melt away with the warmth of the stones and the rhythmic strokes of the masseur.
Restore your health with a Singaporean Wellness Escape. This two-and-a-half-hour treatment includes a delicious meal at the poolside restaurant that will delight both your taste buds and your health! Or, you could pamper yourself with an Orchid Bliss, a popular Wellness Journeys. Lighten your skin with the fragrant orchid extract!
You can also enjoy a Personalised Rejuvenating Facial at the spa. A professional analyses your skin thoroughly to determine its every need. Formulated with high concentrations of active ingredients, Biologique Recherche guarantees maximum results. You will feel wonderful after the hour-long session!
Return your skin to its youthful appearance when you choose the Imperial Jade Facial. An ancient scraping massage technique (guasha) developed by Traditional Chinese Medicine, this treatment uses precious crystals and employs gentle, sweeping strokes on your face. 
Remember: for an unforgettable pampering experience, reserve your slots!
The Grown-Ups' Getaway
After putting the kids to bed, a magical evening awaits at The Orchid. This wooden bud-like structure houses more than 600 species of orchids. Enchant your loved ones with Diner de Fleurs, a seasonal menu that's sure to tantalise your tastebuds. The Orchid is only available to one dining party per evening so book it in advance! 
Finally, enjoy a panoramic view of the city from the Horizon Club Lounge while sipping on cocktails by the bar. Singapore and Shangri-La Suite guests enjoy free-flow champagne at The Champagne Bar. What a splendid finish to an amazing luxury family staycation!
---
Click here for the full Singapore luxury staycation selection.
Find out more about our extensive Shangri-La Hotel Singapore luxury staycation deal.