V

isit the heart of Switzerland and fall in love with the picturesque city. Explore the medieval Old Town with famous sights like the Chapel Bridge and the Lion Monument..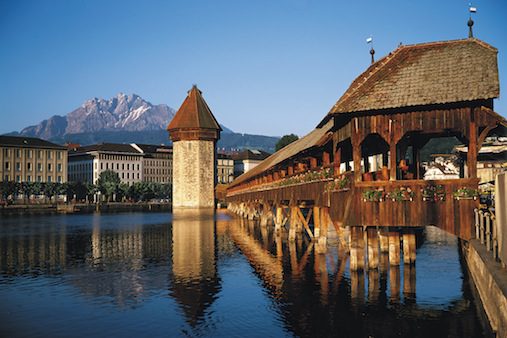 Picture Perfect
Stroll along the cobblestoned streets of Lucerne and soak in the charm of the city with it's colorful buildings painted with murals. Cross the oldest wooden covered Chapel Bridge with its octagonal water tower while you admire the paintings in the interior.
Cry Me a Lion
Visit the grand Lion Monument that commemorates the brave Swiss mercenaries who died at Tuileries Palace during the French Revolution. Mark Twain was so moved with it that he called it "the saddest and most moving piece of rock in the world".

Golden Tickets
Go on the delightful Golden Round Trip that takes you across Lake Lucerne by boat, then up Mount Pilatus via the panorama gondola and cable car where you can have an amazing view of Lucerne and finally back down with an exhilarating ride on the world's steepest cog railway.