A

n island that emerged from multiple volcanic eruptions, Santorini's landscape is breathtaking. With dramatic sunsets and mesmerizing views of the town, the whitewashed walls and blue domes in Oia complement Santorini's unique beauty. Have a fantastic time at the many beaches with their deep blue waters and volcanic sand!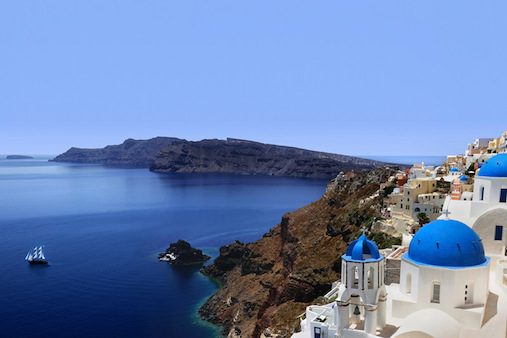 Back to the Past
Visit the Ancient Akrotiri, "Pompeii of Aegean and Ancient Thera". The archeological sites tells the story of ancient Greeks who resided here during the Golden Age as well as the Minoan Bronze Age.
Private Sail
Take in Santorini's landscape and rock formations as you travel on a luxurious sail. With a gourmet lunch on board and impeccable service, you are guaranteed to have an unforgettable time!

Giddyup!
The towns of Oia and Fira are made up of countless little lanes and steps! For a one-of-a-kind experience, hire a donkey to take you up and down the streets as you shop and dine there.