F

ormerly the base for the House of Habsburgs, Vienna is one of the most important and powerful royal houses in European history. Relive the grandeur of the imperial capital as it once was as you wander the beautiful city. There are many museums and palaces are on your list of must-visits.
Blood Royal
Be impressed by the opulent private rooms of the Austrian emperor and empress in Hofburg Palace. Having housed many powerful figures in European and Austrian history, it is still in use today as the offices of Austria's Federal President and goverment.
Artistry
Vienna is bustling with artistic talent. See vibrant entertainers and buskers and stunning Art Nouveau works as you stroll around the city. Admire the century old Art-Nouveau Anker Clock as it strikes 12 noon. Besides the arts, The Spanish Riding School also puts up a spectacular performance by its Lipizzaner horses and their riders.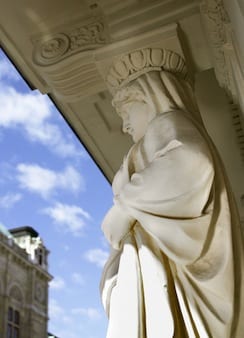 Let Them Eat Cake
Get acquainted with Vienna's cafe culture and sample the wide variety of coffee and pastries available. Spend an afternoon relaxing and  watching the people of Vienna stroll by.