A Majestic Norwegian Landscape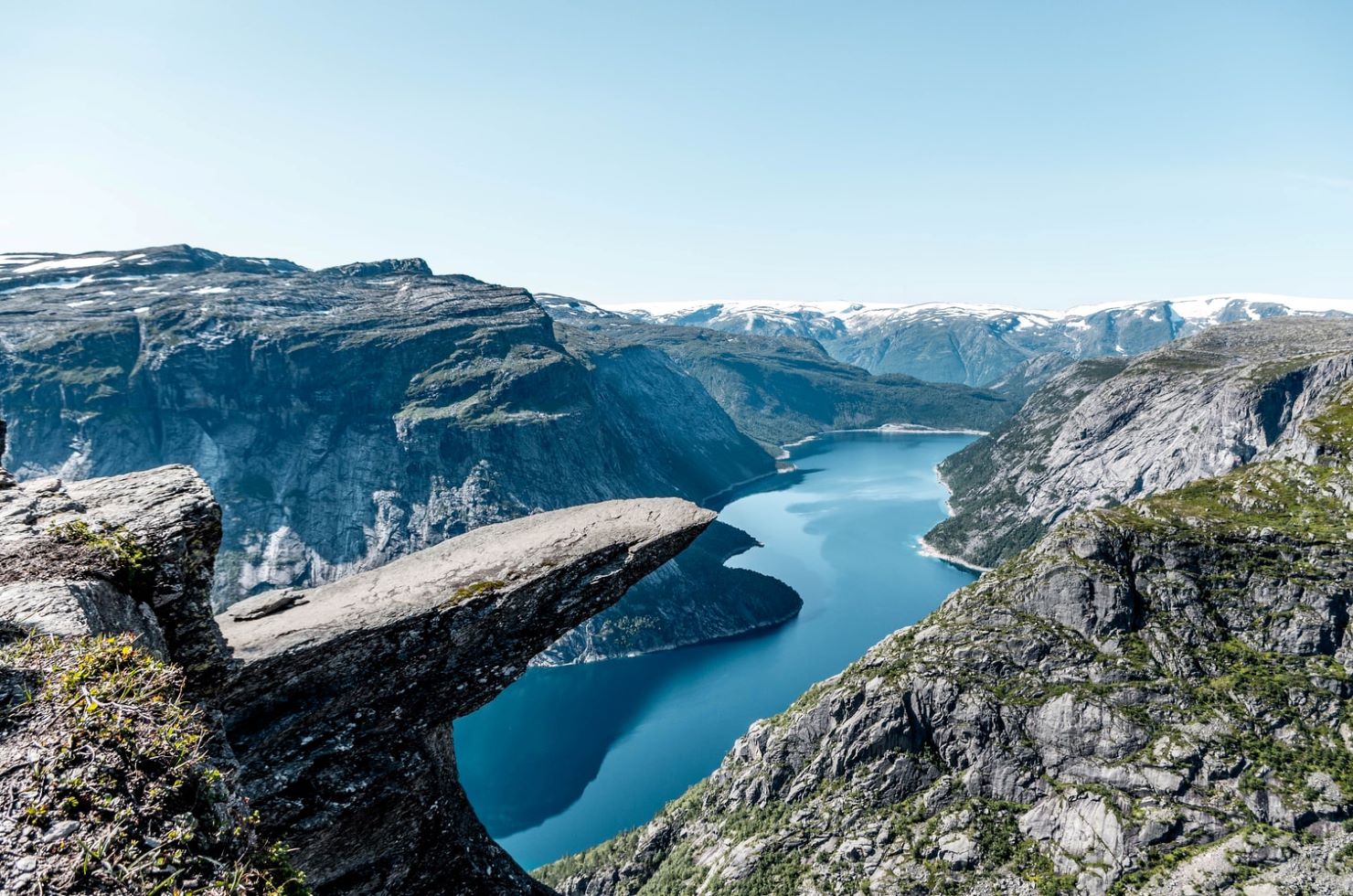 Does a part of you long to venture into the unknown?
---
Norway is the ideal location for a luxury holiday. With the majority of its land covered in mountains, glaciers, moors and rivers, stepping into Norway is as if you've stepped into untouched prehistoric land. Set your sights upon the Land of the Midnight Sun and bask in its timeless glory! 
Legendary Landscapes
Fjords (pronounced fyawds) are narrow inlets created by glaciers and thus an important feature of the Norwegian landscape. While not exclusive to Norway, the country boasts the longest fjord in the world — the incredible 160 kilometres-long Sognefjord! It is also the inspiration behind the Kingdom of Arendelle from Disney's Frozen. 
Hiking is another way to reconnect with Mother Nature. There are many scenic attractions that cater to hikers of different abilities. Strike a pose at Preikestolen, a steep cliff with a flat top overlooking the Lysefjorden. Trolltunga has a spectacular wide-ranging view of a snaking lake. Go on a hike to see the iconic Kjeragbolten where you can stand on a rock that is suspended between two cliffs.
Captivating Cities
Your Norwegian luxury holiday is not complete without a visit to Oslo, the capital city! Be re-acquainted with the Vikings at the Viking Ship Museum, which possesses the best-preserved ships and tombs in the world. The Norwegian National Opera & Ballet (known as the Oslo Opera House) sits by the harbour. Visitors can climb to the roof and catch a 360-degrees idyllic view of the city. Stroll through Vigelandsparken, the world's biggest sculpture park by a single artist.Or perhaps, board a ferry and casually sail around the various little islands surrounding the city. 
The second-largest city, Bergen, is known as the Gateway to Fjords. The Fantoft Stave Church, built in the 1150s, is one of its highlights due to its distinctive Viking-like architecture. World-famous composer Edvard Grieg was also born in Bergen — his home remains in the Trollhaugen district. As an European City of Culture, Bergen sports works of art on pavements and even drain holes!
At the heart of Stavanger's town centre lies a medieval cathedral. Domkirke is the only cathedral in Norway that has been used since the 1300s. For a glimpse of Old Norway, Gamle Stavanger (Old Stavanger) is a small but historic area adorned with quaint 18th century wooden buildings. Tourists usually embark on the popular three-hour Lysefjord Cruise for an up-close-and-personal view of the sheer cliffs along Lysefjord.
Exhilarating Entertainment
Have you always wanted to try snow sledding? Make your lifelong dream come true in Norway! Korketrekkeren offers toboggan rentals, suitable for people of all ages. Take a train up the mountain, grab your toboggan and speed all the way back down for endless thrills.
Northern lights also frequent the dark skies during winter, specifically from October to March. Catch a glimpse of this soaring spectacular in the Arctic cities of Tromso and Kirkenes. 
Norway is home to the midnight sun, a rare phenomenon that occurs only once every year during the summer solstice (21/22 June). The sun remains high in the sky even at midnight! This is a wonderful sight for visitors who flock to Norway for this special occasion. Make your Norway luxury holiday memorable with some midnight activities. Midnight golfing, sea kayaking, and even whale safaris are held during these endless summer days. 
Eager to dream but tired of planning? At Uniq Luxe, we craft personalised itineraries for you and your loved ones. Follow us as we bring you on your Norway luxury holiday! Find out more here!
Not what you are looking for? Explore other European destinations!